Unless you have a large amount of money, you will be probably setting up your grids using tapes, usually a combination of 30 metre and 100 metre tapes. You will also need a quantity of ranging poles or bamboo canes topped with colourful tape for visibility. Canes are lighter if you have to carry them to the survey area but harder to see and push into the ground. They can also be somewhat less than straight, which can cause problems described later. There are two main processes involved in setting up a grid using tapes, the first is sighting and measuring and the second is triangulation.
To set up your baseline in the first place, you will need to use sighting and measuring. Assuming you are going to be making your baseline the same length as your survey area, you will need to choose a starting point and then measure using a suitably long tape the distance of your survey to the end point of the baseline. If the baseline is constrained by a factor other than the survey area then you will have to pick the two points and measure to the survey area. Most importantly, your baseline should be straight, and you can do this by sighting in the points using tapes and ranging poles or bamboo canes.
If you have points on your baseline and you want to set up the intervening points, then start by placing two ranging poles in the ground at these end points. With a tape running in between these two poles, set up poles at the required distance in between. With one person holding these new poles, another person can stand at one end of the baseline and instruct the first person to move the pole until it is in line with the two poles at the ends of the baseline. Errors can creep in here, usually because the poles are not upright or in the case of bamboo canes, because the canes themselves are not straight.


Setting Up A Baseline
Once you have set up your baseline, you can now set up the grid squares, and here we need a little bit of maths. If you can remember your maths lessons at school, you may remember that when dealing with right angle triangles, the sum of the hypotenuse is equal to the sum of the squares of the other two sides. Basically, if you want to set up a square from two points you can make two right angle triangles using tapes to get the other two points. If you don't want to do the maths, all that you have to remember are the diagonals for the three most common squares used in geophysics :
10m Square: 14.14m
20m Square: 28.28m
30m Square: 42.43m
40m Square: 56.57m
Using two tapes, a square can be set up from a baseline or another two adjacent points in two stages, as shown below. It should be noted here that this method can produce cumulative errors, so when triangulating to a new point, you should always use the oldest adjacent points available to you. When you have set up a point, and if there are other suitable points available, the new point can be checked by looking to see if it is line with two or more already existing points. Errors can be caused by vegetation or other terrain getting in the way, or by the slope of a hill. Whilst this method is useful for small surveys, larger surveys need something that has less cumulative errors.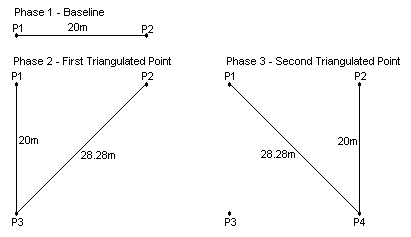 Setting Up A Square Using Triangulation
If you are surveying a very large area, a quicker and more accurate way to set up a grid is using the a combination of the sighting method used for the baseline and the triangulation method shown above. Say you have a hundred metre tape and want to set up an area 100 metres square containing 25 grid squares of 20x20m each for surveying. Additionally to your 100m tape, you will need a thirty metre tape. First of all, set out a baseline of 100m using the sighting method. At the ends of this baseline, use triangulation to set up two points offset 20 metres from the baseline. With these two additional points, you can now use sighting again to set up the two sides of your 100x100m survey area. When you have these two lines, you can check they are correct by measuring between the ends to make sure the last side is also 100m. The first time I was shown this I thought it would be very inaccurate, but the error on the last side was only 7cm over 100m, which is perfectly acceptable. Finally, you can set up all of the points within the survey area by running the 100m tape between all points on both sides and sighting them in between the two ends.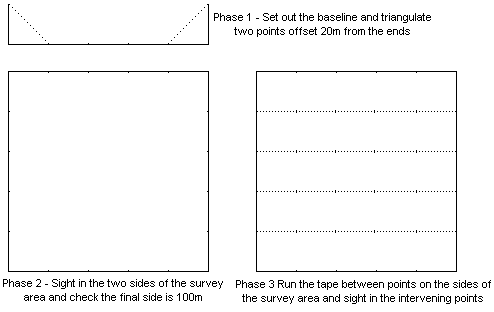 Setting Up A Large Survey Area Using Sighting
Price:
Dead cheap